"Diamond Engraved™", what does it mean?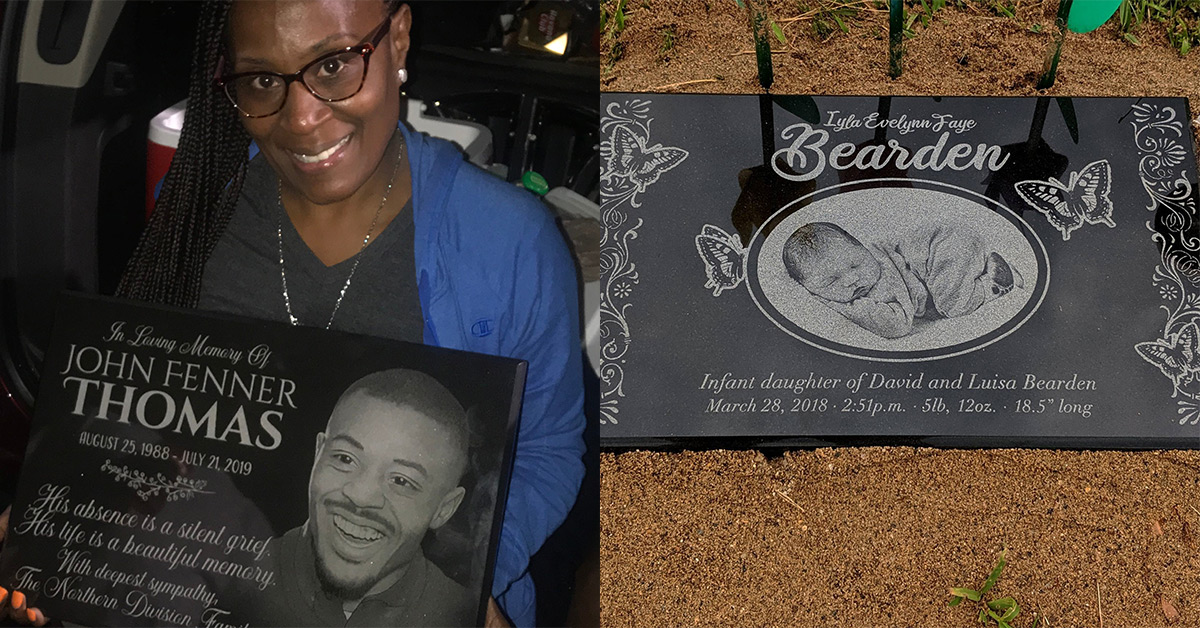 "Diamond Engraved™", what does it mean?
In our case, "Diamond Engraved™" has two meanings. One technical and one metaphorical.
On the technical level, it simply means that we engrave our memorials with a sharp diamond.
If you have never heard about this technology, it is because it is brand new and requires artistry and attention to detail.
Our engraving machines hit the polished granite with a sharp diamond, thus creating super-bright engraving that will never fade away.
The majority of headstones that are offered on the market today are engraved by laser.
We do not believe that laser engraving is a way to go for truly ever-lasting monuments.
Laser engraving is very shallow and has a yellowish tint. It is simply not bright enough.
That is why most operators of laser machines apply paint on top of their engraved images, to "highlight" them. To us, that is simply wrong. It misleads the customer because white paint is not engraving.
The paint that is applied on top of the laser-etched monument/headstone will fade away in a few months after being exposed to UV light, temperature changes and elements.
That is why we believe that diamond-engraving is the only honest and proper way to ensure that your loved one's headstone or memorial will last forever and will always look the same as on the day you received it from us.
On the metaphorical level, the word "Diamond" is associated with purity, eternity, and attention to detail. These are the qualities we aspire to and implement in our work.
From the moment you place your order, you can be sure that we will communicate with you respectfully and promptly; and will help you through the very emotional process of creating a memorial for your friend, relative or pet.
We will artfully prepare images you sent us for engraving, edit them to make sure they look great on the stone, add stylish texts and carefully selected accents and ornaments, to make sure that the resulting memorial stone is classy, brilliant and awe-inspiring.
The black granite used for our memorials stones is carefully selected and custom-made to offer you the best looking monument.
We package our stones for shipping in earth-friendly boxes, not using any styrofoam or plastic.
Our cardboard boxes protect stones from being damaged yet are fully recyclable.
We take away any stress from the process of selecting your memorial. All our prices include customization and free shipping in the US and Canada.
This is why we call ourselves "Diamond Engraved™".